For our first trip in Bongo (our tiny teardrop trailer), we took it camping at Scusset Beach State Reservation in Cape Cod while visiting family in the area. This park was absolutely beautiful, clean, and reasonably priced. We stayed there two nights (Wednesday-Friday) and even in early June, it was pretty cool outside, which was a nice respite from the hot D.C. weather.
Getting to Scusset Beach State Reservation was pretty easy. From Washington, DC, it took us about 7 hours of driving. The only difficult part of the trip was driving through New York City, but we have done that before many times so it wasn't anything new to us. The tolls from the D.C. area were about $30 for a one-way trip. The drive, once in Rhode Island, was easy and very pretty. There were lots of bridges and scenic waterways to see.
Campground Layout and Policies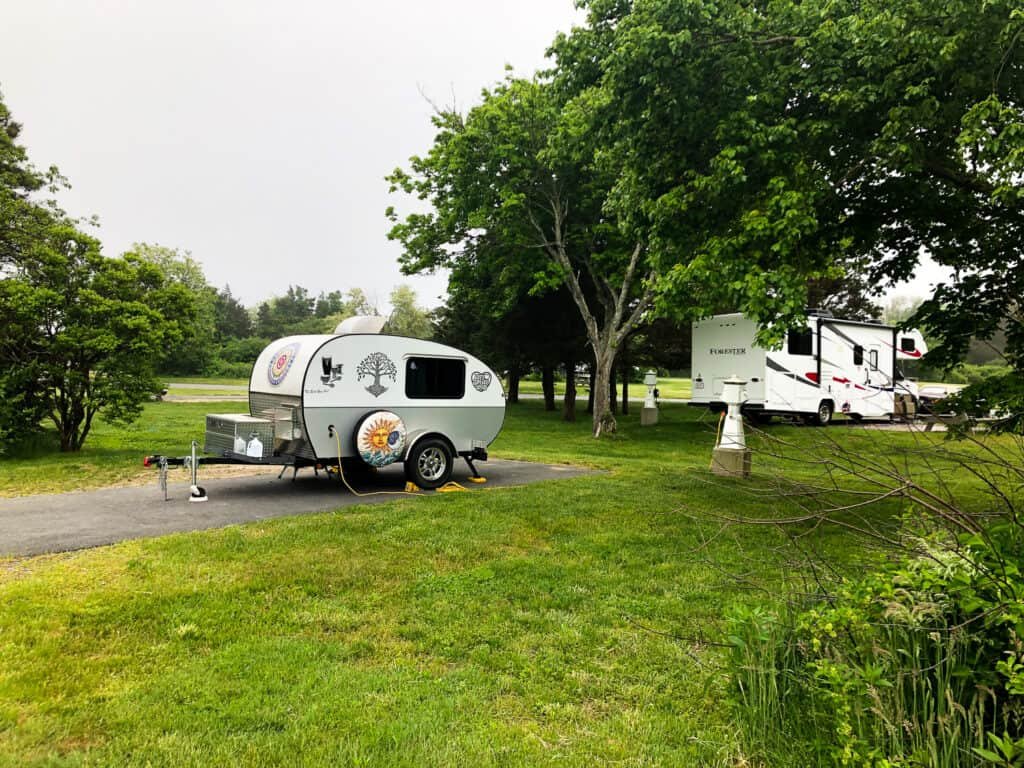 The check-in process was easy and fast. There is the main building as you drive in the park where you check in and get your car tag and then just head over to the spot. Like a lot of campgrounds, the spots are in a circular pattern with two roads going through the middle of the circle and the comfort station in the middle. The campground does not allow any alcohol on-premises so keep that in mind when you pack for the trip.
The spots were spacious and a lof them had a clump of trees and bushes in between them to not feel like you are on top of someone else. They had a paved pad that you back in, a picnic table, electrical hookups, and a water hookup. It was a very nice setup for large RVs, trailers, fifth wheels, vans, buses, conversions, and even Bongo, our little teardrop trailer.
The campground had electrical and water connections. It did not have sewer connects, but did have dump station that was fairly close.
Scusset Beach State Reservation Amenities
The amenities offered at Scusset Beach State Reservation were nice and clean. There was a large bathroom with shower facilities, nice size playground for kids, a dishwashing station that came in handy for dinner cleanup, a trash area that has bins for recyclables and regular trash, a fire ring area, a picnic table area that was covered, and a large pavilion.
Beach Access and Jetty
The best part of the Scusset Beach State Reservation campground is the access to the beach. When we visited, it was pretty cold so there were no crowds or anything, but it was beautiful. There was a boardwalk down to the sand from the beach parking area so it was easy to get to. You can also go to the jetty that was popular for fishing. All of it was a very short walk from our campsite. The water was calm and it would have been nice in warmer weather.
Walking/Bike Trail
Our favorite part of Scusset Beach State Reservation was the walking/biking trail. There are no cars allowed, but you might see maintenance vehicles cutting grass and other tasks. It starts at the beach, but there was an access point about 0.25 miles into the trail right from the loop of the campsite. It is 7 miles of paved trail all along the canal and is gorgeous. We saw bikers, roller skaters, fishers, walkers, runners, and just people enjoying walking their dogs. It was flat and an easy walk, and we loved it to still get our steps in on vacation. There also is a nice pier about 1 mile into the walk outside of the check-in building where you can find bathrooms.
History
Scusset Beach State Reservation was mainly salt marsh and a creek. Sagamore Hill was used as a meeting place for the Wampanoag tribe. Throughout the 1600s-1800s, the area was mostly left as it was with a few houses, a small harbor, and a boat yard.
In the 1900s, a golf course was built on one side and then a canal was constructed by the Boston, Cape Cod, and New York Canal Company. The park and area around the canal changed hands several times from the Federal Railroad Administration to private companies and then back to the government (Army Corps of Engineers). When the Army Corps of Engineers owned the area in the 1930s, the canal was widened.
During World War II, the Department of War took over the Scusset area and a battalion was moved in for defense purposes. Ownership was reverted back to the Army Corps of Engineers after the war. Around the 1950s the state leased the land from the Army Corps of Engineers for a state beach and the area turned into a recreation area: campground, parking lots, and buildings were constructed, and it has been used that way ever since.
Making Reservations
For reservations at Scusset Beach State Reservation, we went to Reservation America and created an account, and booked right through the website. It was an easy process to book.
References
"Park History." Welcome to The Friends of Scusset Beach Reservation Inc, https://friendsofscussetbeach.org/?page_id=178.