Packing well is part skill / part having the right items. There are so many great products out there to help you, but when you add the cost of them all up, it can quickly get expensive. Enter the Dollar Tree store – a place where so many things can be found, and of course, they are only a dollar. Here are some Dollar Tree travel hacks that we have found along the way.
Packing Your Clothes
I was surprised to see how many products in Dollar Tree that will help with the chore and frustration of packing clothes, especially when trying to pack light.
---
Packing Cubes
1Everyone has heard of packing cubes and how they allow you to pack more in your suitcase since everything is using the space efficiently. They can get expensive though. The Dollar Tree store actually has sweater storage bags, which can be used as packing cubes, and they are only $1 for 2 of them. They zip up and air can vent out the sides so they are a great find.
---
Vacuum Storage Bags
2 If you have access to a vacuum at your home and travel destination, these vacuum bags can be a lifesaver for clothes, towels, bedding, pillows, jackets, ski clothes, and other bulky items. Even if you don't have a vacuum, you can still use these by putting weight (have someone sort of lay on them) to get as much of the air out as possible and then cap them. These bags can save a lot of packing room in a suitcase or car.
---
Laundry Mesh Bags
3Mesh laundry bags are so useful to pack in small space and keep dirty laundry contained during your trip or can be used for the beach for your beach toys to make them easy to rinse and dry out. They can also be used like packing cubes by placing clothes them and wrapping the excess bag around. They keep things organized and are breathable so easy to pack.
---
Shower Caps
4Shower caps are extremely useful in packing since they can be used for wrapping a number of things to protect the rest of your clothes. One of the most significant uses is for shoes. Use a shower cap to cover shoes to stay together, and if the bottoms are dirty, they won't affect the clothes they touch. They can also be used for wrapping small items together and twisty tie the top. Since you can get 8 of these for a dollar, they are a great value in your travel supplies.
Stocking Your Medicine Kit
A travel medical kit is a critical item to keep current and take with you on all travel, especially foreign travel, when these items may be harder to purchase easily.
---
Travel Sized Medical Products
5YYour travel medicine kit should be stocked with items like antibiotic ointment, alcohol wipes, and lip balm for both warm and cold based vacations. The dollar store also has pain relievers, cough drops, and many other over the counter medications. Packing these products are very important for foreign or cruise travel since they are typically harder to obtain.
---
Adhesive Bandages
6Adhesive bandages of all sizes can be found at the dollar store. We would recommend buying one of the full assorted boxes and then packing a few of each size in your travel medical kit. Before your next travel, make sure to restock your kit replacing ones you have used.
---
Muscle Pain Relief
7If you are going on an adventure vacation (hiking, rock climbing, whitewater rafting, etc.) or just a holiday where there is a lot of walking, these packs are useful for sore muscles or strained areas after you have had a long day. Each package comes with two patches so bringing along one or two packs may be all you need.
---
Cold Packs
8The little beaded cold packs in the dollar store have many uses. These are great for bumps and cuts for an ice pack that isn't too cold. They can be used to keep small snack cold for the trip, or if someone is feverish or just hot, they can be used on the wrists, back of the neck or face to help cool them down. The ice packs come in fun colors and shapes, which can comfort when someone is not feeling well.
Packing Your Toiletry Bag
One of the most useful categories of items that you can find at the dollar store are travel size toiletry products to allow you to pack in less room.
---
Travel Sized Bottles
9Travel sized toiletries such as lotion, sunscreen, and shaving cream are just a few of what can be picked up at the dollar store. There is usually a large section of the miniature products that will fit easily into a travel bag.
---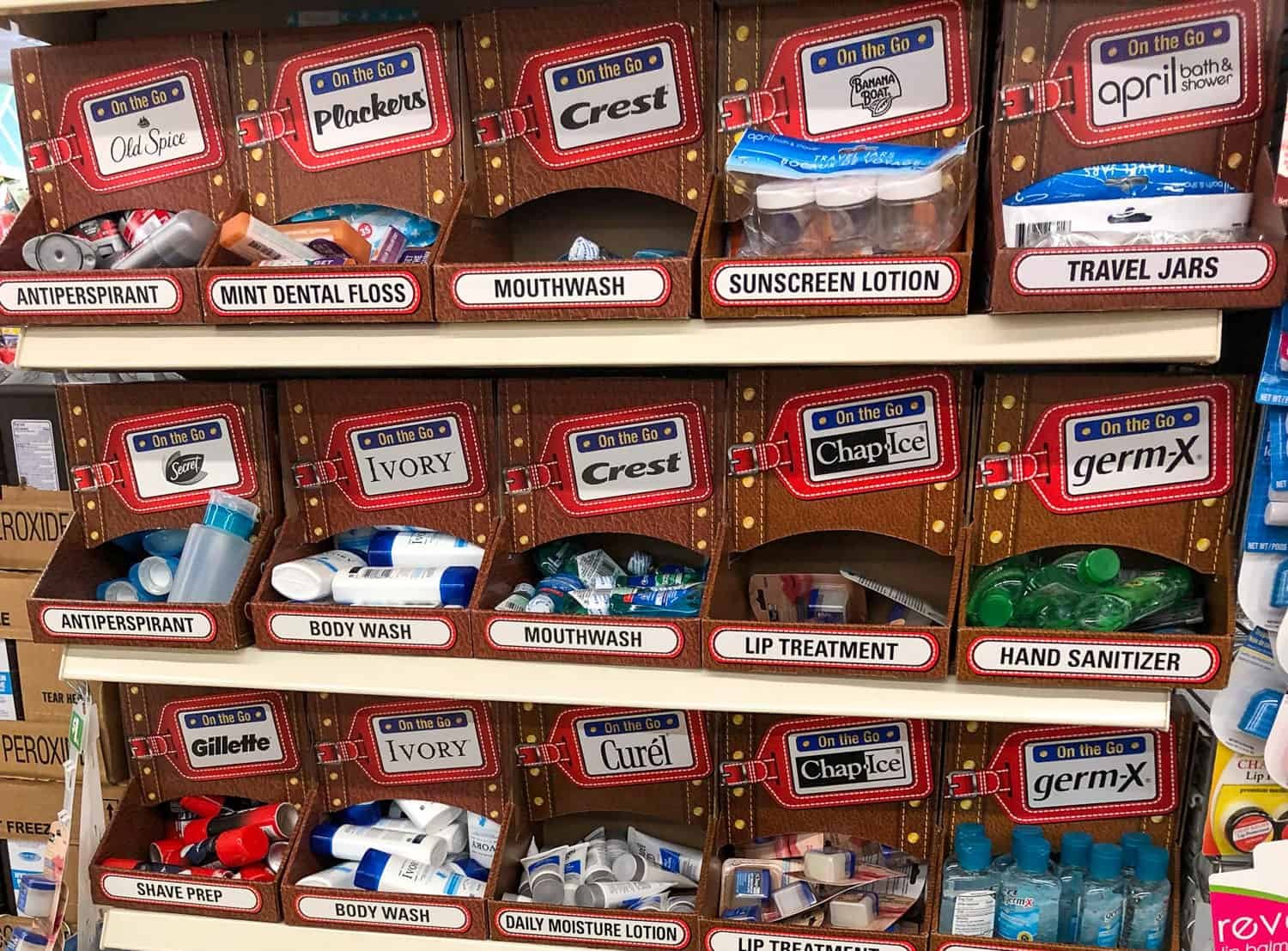 10The dollar store usually has a large section of travel sizes items and products in the store. You can purchase pretty everything you need, including hand sanitizer, toothbrushes, toothpaste, floss, mouthwash, etc. This section is a must visit when going on a vacation.
---
Reusable Travel Bottles
11If you don't like the plastic waste of the small bottles, there are travel size reusable bottles at the dollar store that can be filled from larger bottles and reused. There are all different sizes and types (jars and bottles, small and large). There is even a kit that comes with two bottles, bath sponge, and toothbrush cover all for one dollar.
While You are Traveling
Traveling cramped on a plane or in a car can be uncomfortable. The dollar store offers several products that can be used to make this experience better.
---
Sleep Mask/Ear Plugs
12During your travels on airplane, car, train, or boat, sometimes the conditions that you are trying to sleep in are not ideal. It may be too bright or too loud for you. The dollar store has sleep masks and earplugs that would be easy to slip into a carry on and make sleeping much more comfortable. This little package came with both, so it is an even better deal.
---
Reading Light
13On a long plane or car trips, you may not want what to turn on the reading light or in a car you don't have one. This little clip on battery operated light is perfect for being able to read while everyone else is trying to sleep. It is small enough not to bother people around you or the driver, but big enough to put out enough light to read.
---
Suction Cups
14These little suction cups can be stuck to the window to hang things like headphones when not using them to keep them accessible and out of the way. They can be easily applied and removed and can also be used at the travel destination in the bathroom/shower to hold items.
---
Earbud Case
15This little earbud holder can be hooked to a carry-on backpack and make it easy to find your earbuds and can keep them from getting too tangled. This small case can be used all of the time – not just traveling.
At Your Destination
Once you are at your destination, there are little products that can be found at the dollar store that can be helpful at your travel destination.
---
Battery LED Light
16These little lights are battery operated and can be set anywhere or mounted with removable strips. This nice in an unfamiliar hotel or housing to have a light accessible in a dark hallway, especially with children. These lights can be moved around as needed and pack very flat.
---
Large Clips
17These large clips are so useful. We have several packages of them and use them to hold swimming towels to chairs when out on the beach or when we are trying to try out beach towels on a balcony. They can also be used while camping to hold a tablecloth down since they are much larger and stronger than clothespins.
---
Rain Poncho
18Rain ponchos are comfortable and light to carry in a travel backpack for those unexpected showers while out sightseeing. Other uses are to put on the wet ground under a picnic blanket or beach towel to keep the wetness from seeping through or can be used to cover a damp chair. You can pick up one for every member of the family to use while traveling and maybe a few extra since they are so useful.
---
Rope
19Little bundles of rope are useful for making a temporary clothesline for drying out towels, holding down items in a windy location, or wrapping up bags or other things while in transport.
---
Tote Bags
20There is a large selection of tote bags that can be packed flat and then used to carry beach items or ski gear for your day of activities. These tote bags come in various sizes or colors to fit just about everyone needs and tastes.