We had a chance to visit the Mystic Aquarium in Mystic Connecticut one afternoon and found it to be a wonderful experience. It is a great place to go if you are in the area and had so much to see. Here are our top 5 favorite reasons to visit the Mystic Aquarium.
Mystic Aquarium
55 Coogan Blvd, Mystic, CT 06355
https://www.mysticaquarium.org/
Beluga Whales at the Mystic Aquarium
By far the number one attraction for us was the Beluga Whales. They have three permanent whales in the exhibit: Juno, Natasha & Kela. You can see them in multiple underwater viewing areas. Our favorite was Juno, the largest of the three, who would sit right at the glass wall and just watch people. There was a little girl that was watching him with us, and Juno was flirting with the little girl, by smiling, posing and even spitting water over the side of the enclosure. Apparently, the trainers taught him out to spit water for the show and now he just does it to have fun.
I could have sat there for hours watching the Juno swim by and make people laugh as it opened its mouth and spit water at unsuspecting people.
Mystic Aquarium is worth it just to see the Beluga whales, and I plan to go watch Juno again soon.
African Penguins
The Peguins were a lot of fun to watch as well. These are African Penguins which are found (in their natural habitat) in the islands around Namibia to South Africa coastlines. These are endangered species which the Mystic Aquarium does a lot to raise money and spread awareness of the plight of the penguins. They even have their trainers go to South Africa to train and help with experts and organizations to gain more knowledge about the penguins and assist with their efforts to save the African Penguins.
Watching the penguins was so much fun since we were there during feeding time and when the trainers were cleaning the habitat. You got to watch the more dominate older penguins try to grab more food from the younger less aggressive penguins, which was amusing. Some love to interact with trainers and others wanted to just swim and others liked having fun with the people watching them.
There are multiple viewing areas (above and below water) to see them move and interact with each other.
Japanese Spider Crabs
The Japanese Spider Crabs were not a big exhibit, but they are a must see. They sit at the bottom and just stare at you like they are judging you with their eyes and frown. I found them very amusing to watch as some of them moved around the bottom with their long legs. They are one of the largest know arthropods and when you look at them, you can see why. They are huge. I enjoyed watching them in their aquarium, but I can't image seeing them actually in the wild. That would be a bit terrifying.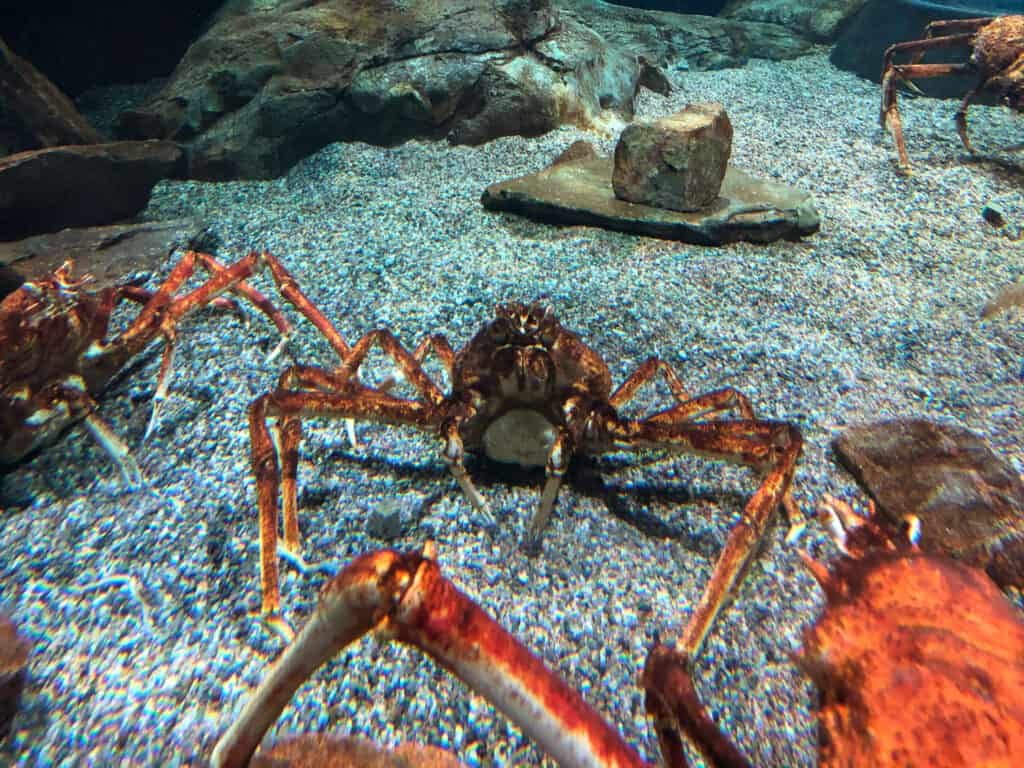 Tropical Fish
There are a lot of different tanks with tropical fish and whether you love the clown fish hiding in their sea anemones or the porcupine fish which are funny just swimming around, you can find fish that you love. The colors and the antics of of the large variety of fish just make the whole experience everything you want out of an aquarium.
Paddle Fish
The Paddle Fish were hilarious to watch as they swim around the large tank with their mouths open using their long snout which is a actually a sensory organ to help them catch plankton. Their expressions on their faces just made me laugh and they were enjoyable to just watch for a bit.
References
"African Penguins at Mystic Aquarium." Mystic Aquarium, 19 June 2020, www.mysticaquarium.org/experiences/african-penguins/.
"Beluga Whales at Mystic Aquarium." Mystic Aquarium, 10 July 2021, www.mysticaquarium.org/experiences/beluga-whales/.
"FB Live Answers – Meet Juno." Mystic Aquarium, 4 June 2020, www.mysticaquarium.org/fbliveanswers-2-2/.